When you are involved in an auto accident it can be a traumatic experience. Here are some tips to get through the ordeal from the perspective of a Massachusetts Insurance Agent.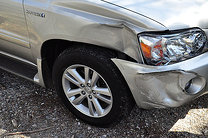 1) Make sure that you are safe, if there are injuries be sure to get help.
2) If the car is able to be safely moved from the roadways, take that precaution, if not contact the appropriate authorities. Be careful of any leaking fluids or glass.
3) Exchange information with the other involved parties. Key items will be the other driver's license number and contact information as well as the license plate number for the vehicle (make, model, and color help too). The other parties insurance company and owner of the vehicle (if not the driver) are also helpful.
4) If you are able to take photos of the location and damage, it can help if claim details become unclear later on in the process. If not, try to note the location of the accident.
5) Authorities can be contacted if you deem necessary.
6) Make sure the car is safe to drive (i.e. no leaking fluids, all doors shut, head/tail lights operational, no grinding or scrapping when vehicle moves). If the car is towed make sure you know where it is being taken.
7) When things settle down and you are able contact your Massachusetts Insurance Agent to have them help you file claim information with your auto insurance company. In certain cases a State Accident Report Form will need to be completed.