The 2015 RMV Plate Lottery begins, today, June 19, 2015. The Plate Lottery Entry Form, includes the eligibility requirements and the list of available low number plates in the order in which they will be picked.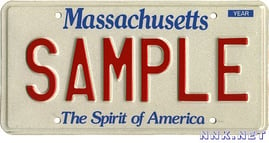 To be eligible, customers MUST mail the form to the address listed on the form and it must be postmarked no later than August 21, 2015. This year there are 156 plates available for the low number plate lottery, including the following:
• Numbers only - three digits (e.g. 376)
• Numbers only - four digits (e.g. 1061)
• One number and one letter (e.g. 6V)
• Two numbers and one letter (e.g. 17D)
• One letter and one number (e.g. E3)
• One letter and two numbers (e.g. B65)
The date, time, and location of the lottery plate drawing will be posted on the RMV website (www.massrmv.com). In addition, applicants will be sent notification via email. Lottery results will also be posted on the RMV website and winners will be notified by email, if an email address was provided.
Lottery Rules And Eligibility Requirements
• Only one (1) entry per applicant will be accepted, regardless of the number of active registrations he/she may have.
• An applicant must be a Massachusetts resident. An applicant must have a currently registered and insured passenger vehicle.
• Companies/Corporations may not apply.
• RMV employees, including contract employees, and their immediate family members are not eligible. (Black's Law Dictionary defines "immediate family member" as the term generally referring to one's parents, spouse, children, and brothers & sisters.)
• Entry forms must be legible and printed in ink. The form must not have any missing information. Incomplete or illegible forms will be rejected. It may be helpful to have your registration in front of you when completing this entry form. Your accuracy will reduce the risk of your entry form being rejected. *Fields marked with an (*) are optional.
• Requests for specific plate numbers will not be honored. Eligible applicants will be considered for all plates listed. Plates will be awarded in the order in which they are listed on the "2015 Plate List."
• An applicant's registration and license cannot be in a non-renewal, suspended, or revoked status at the time of entry, the time of the drawing, or the time of the plate swap. As such, an applicant must not have any outstanding excise taxes, parking tickets, child support, warrants, or unpaid E-ZPass/Fastlane violations.
• Entry forms must be mailed and postmarked no later than August 21, 2015. Hand-delivered entry forms will not be accepted.
• By law, lottery winners must be announced by September 15, 2015. Please visit our website(www.massrmv.com) later in the summer for the official drawing date. Lottery results will be available on the RMV website.
• All winners will be notified by the RMV in writing with instructions on how to transfer their current registration to their new lottery plate. Winners will have until December 31, 2015 to swap their plates by phone or at the Special Plate Section at RMV Headquarters. Unclaimed plates will be forfeited after December 31st. Plates will be registered to the winning applicant only.
• All plates remain the property of the RMV even after registration.
*Information provided by MAIA